Discover more from Words & Pictures by Jeffrey Bruno
Powerful visual stories documenting the rich traditions and diverse communities within the Catholic Church.
Over 1,000 subscribers
You could tell he was nervous.
Not that he's any stranger to public speaking or suffers a lack of Faith.
When Fr. Mike Schmitz addressed the congregation of thousands gathered for the Napa Institute-sponsored Eucharistic Procession at "America's Parish Church," St. Patrick's Cathedral, he more than once cautioned, "I don't know what we're going to face out there…" The unease in his voice was palpable.
Perhaps it's because he's not from New York and is unfamiliar with its deeply Catholic roots.
Or maybe it's because he's seen media coverage of events like the Witness for Life, which have sometimes met with resistance.
Either way, he was in for a pleasant surprise.
Earlier this year, on the Feast of Pentecost, another large Eucharistic Procession took place, led by New York's Bishop Espaillat, a native of the South Bronx whose leadership has proven transformative for the Archdiocese.
The passionately outspoken Bishop stood beneath the towering billboards of Times Square, proudly and loudly proclaiming, "IN THE MIDDLE OF NEW YORK IS THE CROSS OF JESUS CHRIST!" He addressed the thousands gathered in praise and adoration of Jesus in the Blessed Sacrament.
And on the Feast of Corpus Christi, the city welcomed over thirty Eucharistic Processions, stopping traffic and filling the streets with grace.
The moral of the story?
These events are transformative, not just for the participants, but also for passersby who look on with curiosity, wonder, and often, reverence. They're transformative even on a global scale.
Messages poured in from around the world about how these events inspired individuals, parishes, and even entire dioceses to follow suit.
If it can happen in New York City, it should happen everywhere.
Last week, at the New York State Eucharistic Congress, another procession took place on the grounds of the Shrine of the North American Martyrs, a mere arrow's flight from where St. Kateri Teckakwitha was born.
How fitting.
This is the very place where St. Isaac Jogues, St. John de Bruef, and their companions gave their lives to bring Christ to America. Their sacrifice made it possible for the Blessed Sacrament to be raised high, praised, and adored some 400 years later on that same sacred ground.
What a fitting tribute.
Quite a contrast to the challenges they faced in those times.
Eucharistic Processions have been a cornerstone of Church life since the Middle Ages, often organized for special feast days or during times of conflict, pandemics, or other challenges.
Their impact is undeniable, and their fruits are evident.
They transform the world by taking Jesus Christ to the streets. The prayers and witness of the faithful play a significant role, but it's the actual presence of Christ that makes the difference, especially for those who might never set foot in a church. For those lost or in pain, these processions offer an encounter with the healing love and mercy of Jesus.
So, take a moment to look at the world around you and ask: Does it need to (re)encounter Christ?
The answer is clear, and the solution is simple: The world needs more Eucharistic Processions.
As the Church undergoes this period of Eucharistic Revival, there's no better time to start.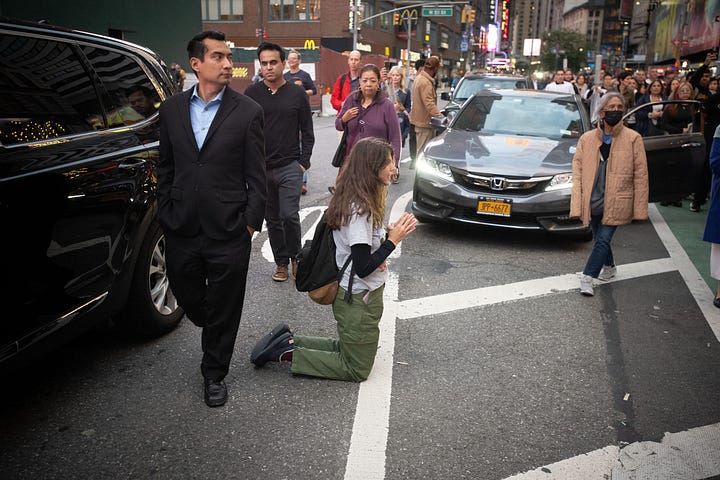 And attendance?
In conclusion. The power behind Eucharistic Processions does not come from man. It comes from Christ Himself. And this is why the world needs these now more that ever.
Because the world needs Christ more than ever.
Words & Pictures by Jeffrey Bruno is a reader-supported publication. To receive new posts and support my work, consider becoming a free or paid subscriber.